Do you suffer from neck and shoulder pain and do not know what to do ? Have you tried a lot, but so far without success? Your pain keeps coming back ? You don't understand it and you may be wondering, "Why me ?" You just want to know why your neck hurts and what you can do about it ?!I would like to try to shed some light on this and to support you in helping yourself.On this page I explain the causes of a painful neck and show you exercises that actually help!
Shoulder and neck pain is a common problem in today's society. Office workers in particular often complain of pain or problems in the shoulder or neck area ,
which can develop, among other things, due to sedentary work or the poor posture at the desk. The result is that workers are often absent due to illness.
Neck pain: What are massage devices good for?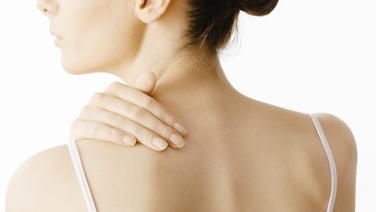 Bad posture and lack of exercise often lead to complaints in the shoulder and neck area.
The neck is one of the most sensitive regions of the body. Bad posture at work or at home and especially lack of exercise often lead to complaints in the shoulder and neck area. They can become a permanent problem and many affected people resign themselves to it. The excruciating pain places an extreme strain on everyday life.
Tingling and numbness
First of all, physiotherapy and massages help to eliminate the pain. But it is not uncommon for them to return more and more violently over time. More and more accompanied by tingling and numbness that radiate into the arms. At the latest when symptoms of paralysis appear, those affected should definitely consult a doctor.
Frequent Poor Body Posture is the Reason for Neck Pain
Possible causes of the complaints can be, for example, poor posture, muscle weakness, herniated discs, an oblique pelvis or a narrowing in the spinal canal. A misaligned jaw can also be responsible for persistent complaints. Unnoticed gnashing of teeth can lead to wear on the temporomandibular joints and thus to incorrect loading in the area of ​​the chewing apparatus. Its muscles are connected to the muscles of the neck and can cause painful tension there.
Muscles Become Tense due to Incorrect Posture
If the head is no longer carried by the body but only by the neck due to an inclined posture, this strain leads to chronic pain in the long run. Wrong sitting and too little exercise are often to blame. In order to compensate for the blockages in the vertebral joints, the muscles tighten. It gets thicker and stresses the nerves. The resulting pain causes the muscles to tense further and put even more pressure on the nerves.
Among other things, osteopathy has proven itself to break the vicious cycle. The therapist tries to loosen the hardened muscles. It stretches vertebrae that are too tight – not only in the neck region, it works on the whole body. In most cases, osteopathy, physiotherapy, warmth and massages can also relieve symptoms such as tingling in the arms.
Building Muscle is Crucial
Massages have a relaxing effect, but do not correct the causes of the symptoms. However, they are good as a relaxing preparation for a muscle-strengthening workout. The physiotherapist teaches the patient special exercises in around six sessions. It is important that these are continued at home on a regular basis. A combination of muscle-strengthening training and muscle-relaxing heat treatments can permanently eliminate the pain.
Best Massage Devices from 40 USD and under 150 USD
If you don't have time for a professional massage or don't want to spend money on it, you can find neck and shoulder massager machine and electrical devices on the market from around 50 USD, which according to product descriptions increase blood circulation, relieve muscle tension and adhesions within 15 minutes and thus alleviate neck and back pain.
Massage Devices: Pillows, Massagers, Mats,Chairs and Balm
A Shiatsu cushion simulates the Japanese Shiatsu finger pressure massage with rotating, heated massage heads. If you press your neck firmly enough into such a pillow, the massage heads should press deep into the muscles, knead them and thus provide pain relief. In fact, the spherical massage heads loosen up the muscles. But if the pillow is positioned incorrectly, it presses on the bone and creates additional pain.
Similar to Shiatsu pillows, massage straps work that are worn on the neck and shoulders and also massage with warm massage heads in different directions.
Massage thumpers are pressed firmly onto the painful area by hand and massage through various attachments by vibrating or tapping. This is said to be a mixture of acupressure and point massage, but it can also be quite painful if the thump is placed over the bone. Without the attachments, the thumper also gives off pleasant warmth to the skin and muscles, thus ensuring better blood circulation.
Release Neck Tension: How to Alleviate the Symptoms – and Prevent them
Those who have to sit a lot in everyday (professional) life, sleep poorly more often or are permanently stressed often suffer from neck tension.Neck pain from sitting at desk all day is what we need to focus on.Here's what you can do to relieve the pain.
A poll In 2017, pain patients showed that 55 percent of men and 35 percent of women suffer from neck tension – and, as a result, tension headache, back pain or muscle tension. The symptoms are mostly the same: the neck is stiff, so the mobility in the head and neck area is severely restricted. It is not uncommon for the pain to radiate into the arms, cause severe headaches or trigger nausea and / or dizziness. So the bottom line is that neck tension is not a treat, on the contrary. Many sufferers feel restricted in everyday life because they can no longer achieve full performance. Private as in professional life. It is therefore all the more important to research the causes and to release the neck tension.
These are the most common causes and symptoms
1. Too little exercise
The thoracic spine is usually very agile – however, if it is moved little, for example by sitting too much, the cervical spine has to work harder. This in turn means that the muscles around it are permanently tense and hardened due to the overload. Pain, neck tension and a stiff neck are the consequences. To counteract this, you have to exercise more in everyday life, be it through regular exercise or you get up from your work every hour, stretching and stretching a bit.
2. Too much stress
If you are constantly under current, your body has to perform at its best: Due to the constant tension, your muscles contract, so that tension in the neck, shoulder and head area occurs above all. Not only is this very painful, it can also become a serious health problem in the long run. The magic word here is: stress relief. Take regular breaks, take a break from time to time and try to keep calm – even in stressful situations.
As an alternative, there are also electrical massagers for neck tension that process painful trigger points with small rotating balls and infrared heat to relieve the symptoms. The practical thing about it is that you get to places that you cannot reach with your hands. In addition, you can determine the pressure and speed of the massage balls yourself.
If you don't want to use an electrically operated device, but still release your neck tension, you can also massage the trigger points manually – but not with your hands, but with a special device: the so-called Body Back Buddy . It not only sounds strange, it also looks like it. Nevertheless, the massage hooks help you to treat your back, neck, shoulder, legs and feet.
Another option for gently massaging your head, neck and shoulder area is the acupressure mat : there are 230 plastic plates with 27 pressure peaks each, which stimulate your skin and thus all important acupuncture points – lying down and sitting down. With regular use, head, shoulder, back and joint pain as well as neck tension and circulatory disorders should be improved.
A well-established classic against neck tension is tiger balm . The ingredients it contains (cajeput, camphor, menthol, peppermint and clove) spread a pleasant fragrance. It is much more important, however, that if you massage the home remedy into the skin, it warms up – this stimulates your blood circulation, loosens your muscles and relieves tension in the neck.
How to prevent neck tension in the future
If you have been able to alleviate the symptoms in the head, neck and shoulder area, this is unfortunately no guarantee that the pain will not come back. For this reason, you must continue to ensure that you exercise enough in everyday life, are not exposed to too much stress and prescribe rest periods. For example, in the bathtub or in a sauna – because heat can be very beneficial for neck tension. If you don't make it to sport, you can also do small exercises in between, at home and at your desk:
Circle your shoulders, tilt your head back and forth, stretch and bend your spine: go into the quadruped stand, do a cat hump and go back into the hollow back. There are many more exercises that you can do in between to prevent neck tension. In any case, it is important to do something for it, especially if you always have a stiff neck. Because the pain will not go away on its own – and may become so bad that you have to see a doctor. The sooner you start, the higher the chances of a quick recovery.
For all of these tools , devices for neck and shoulder pain you will find lots of information and application tips on this website.
How do I stop my neck from hurting when I sit at my desk?Why does my neck hurt sitting at my desk?Why do my shoulders hurt when I sit at my desk?How can I prevent back pain while sitting in office?What is the home remedy for neck pain? What is the best treatment for neck and shoulder pain? What is the fastest way to relieve neck pain? What massager is best for neck pain? How do I loosen up my neck muscles? Does stress cause neck and shoulder pain?Here are
Massage Machines That Are Worth Money.
If you are tired of having to spend $30 to $50 for a massage at the spa then you might want to look into machines that can replace the expensive spa trips. However, you need to be smart about which machine you pick that can help you relax after a hard day of work and come with a warranty. Here are the best massage machines out on the market today.